Quick Details
Type: Skin Analyzer
Certification: CE
Place of Origin: Guangdong, China (Mainland)
Brand Name: Auro
Model Number: Au-KD302
Voltage: 110V/220V 50-60Hz
Carton size: 50X21X36cm
Power: 9.5W
G.W.: 58g
Moisture range: 0~99.9%
Product Size: 17*3*2.4cm
 This Digital Skin Moisture Meter is the right tool for measuring humidity in your skin. This precision instrument utilizes the latest Bioelectric Impedance Analysis (BIA) technology, a nondestructive measuring approach in providing accurate reading every time to help you monitor your skin hydration to maintain a young and healthy looking skin. In addition, this amazing product has been tested according to European international guidelines and standards.
Its so easy to use, just turn it on, touch the probe on your skin and see the skin condition with real figure on its easy-to-read LCD display. This analyzer lets you know how good or how bad your skin condition is. This pen-type tool is so compact that you can even place it in your pocket. Moreover, its battery operated, so you can carry it anywhere and use it anytime.
Right Skin Hydration is the key for a Young & Healthy Looking Skin!
Function
1. Test skin condition, including Moisture, oil & softness

2. The test has no side effect to the human body skin behind, also promote the horniness layer water circulate the function

Feature
1, Tested according to European international guidelines and standards (CE Marking)
2, High accuracy
3, Highly sensitive probe
4, Uses the world-leading Bio-Sensor technology
5, Keeps you aware of your current skin condition
6, Comes with Moisture Reference Guide for all seasons
7, Stylish and portable with compact pen-type design
8, Good for home, traveling, beauty salon and professional skin hospital
9, One touch operation, easy to use
10, Run by 2 regular AAA batteries
Commitment
1.  We guarantee each product will be checked before sell

2.  We also sell a lot of similar products with good quality

3. We places great emphasis on after-sales service work, for the sale of products for one year warranty
Specifications:
· Moisture range: 0~99.9%
· Size: 131 x 27 x 24mm
· Weight: 40g
· Power supply: 2 x 1.5V AAA Battery
.Temperature: 5~40°C
.Relative Humidity: <70%
Spring / Autumn (Fall)
ZONE
Normal Humidity Range
Forehead
35 – 55%
Contour of your Eyes
45 – 55%
Cheeks
35 – 55%
Palms of Hands
45 – 65%
Arms
40 – 50%
Hands
35 – 55%
Summer
ZONE
Normal Humidity Range
Forehead
40 – 60%
Contour of your Eyes
50 – 60%
Cheeks
40 – 60%
Palms of Hands
50 – 65%
Arms
45 – 55%
Hands
40 – 60%
Winter
ZONE
Normal Humidity Range
Forehead
30 – 50%
Contour of your Eyes
40 – 50%
Cheeks
30 – 50%
Palms of Hands
40 – 55%
Arms
35 – 45%
Hands
30 – 50%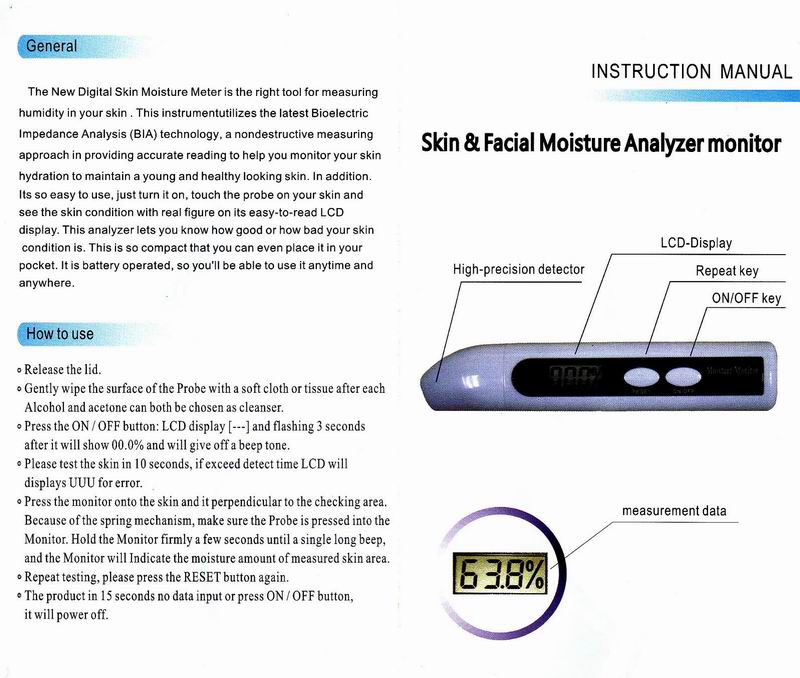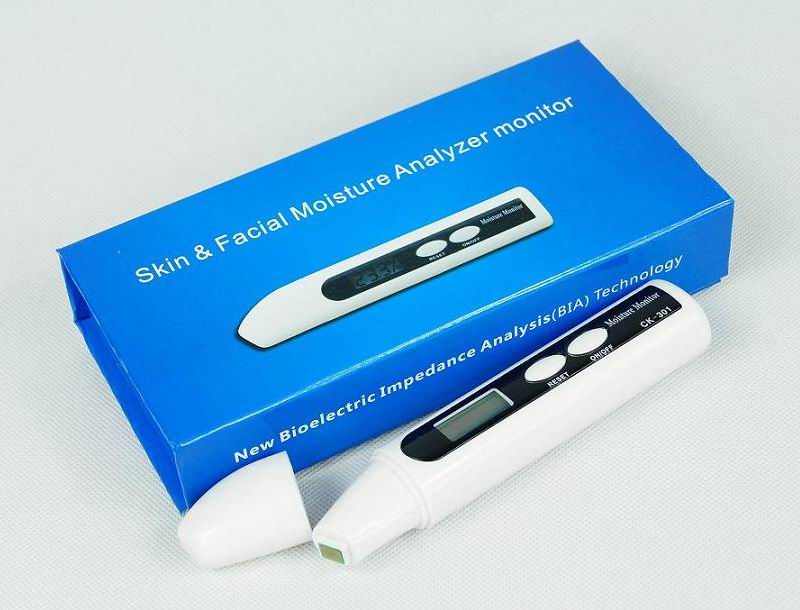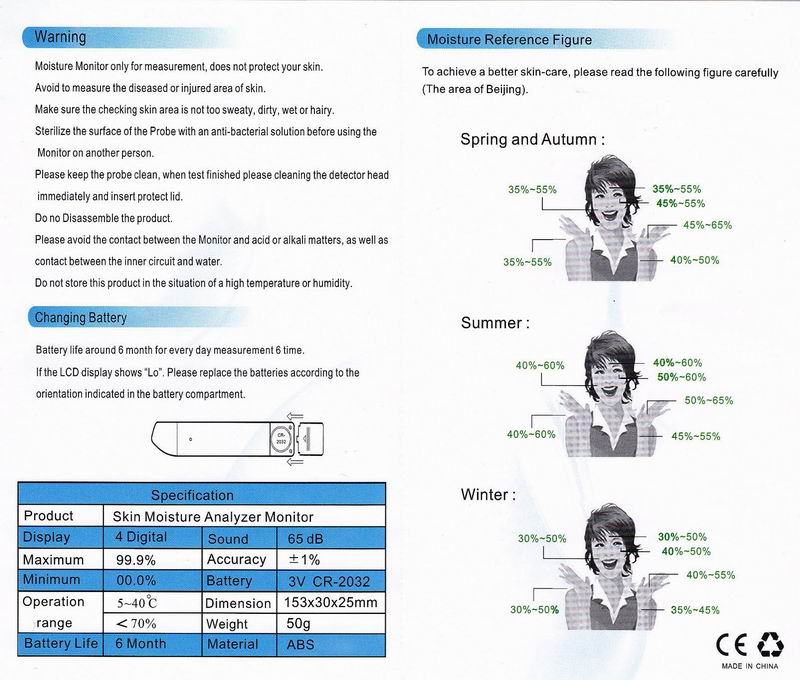 Please Email us for more information or Add whatsapp: +8615920595182